How to refill the refillable ink cartridges for Epson XP-200 ,XP-300, XP-400, XP-410, XP-310
How to refill the refillable ink cartridges for Epson
XP-200 ,XP-300, XP-400, XP-410, XP-310
Updated 18-Aug-2017
Step 1: Prepare 1 syringe with needle, 1 bottle of ink, and refillable cartridge (Picture 1).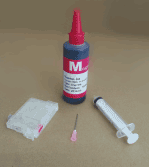 (Picture 1)
Step 2: Use the syringe with needle to draw ink from the ink bottle (Picture 2).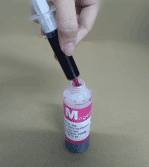 (Picture 2)
Step 3: Pull out the rubber plug from ink refilling hole (Picture 3).

(Picture 3) 
Step 4: Insert the syringe into ink refilling hole (Picture4).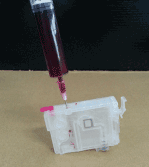 (Picture 4)
Step 5: Push the plunger for about 20ml so that the ink flow into the cartridge. (Picture 5) If the cartridge is not full, then repeat the above steps until it is full.(Picture 4/5)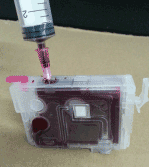 (Picture 5)
Step 6: Please recover the plug in the refilling hole. Keep the air hole open when using it.

(Picture 6)
Step 7: Remove some ink from the end of the cartridges with priming tools (Picture 7&8).
Please Note: From 1/10/2014 priming tools provided with the new refillable ink cartridges, then no need to cut the syringes, 
just use the new small adapter with syringes.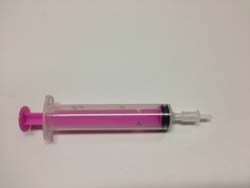 (Picture 7)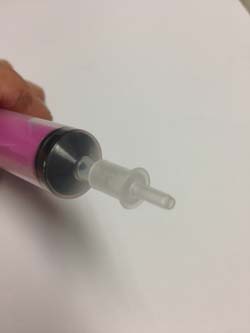 (Picture 8)
please Note: 
Mixing two different brands of ink or cartridges with our refillable cartridges is not recommended 

 
We can not cover the new update Firmware for the chipset. Please never Update your Firmware

"A" Reset point
"B" You can NOT reset the cartridge, you have to wait until the printer has given a message saying "cartridge is empty" 
(never try to reset the cartridge(s) at this point)