Activation Key for making Epson XP-440, XP-441, XP-446 Chipless Printers
Activation Key for making Epson XP-440, XP-441, XP-446 Chipless Printers (for one device only)
Be sure Your printer can be modified to Chipless Version.
Don't buy Activation Key before You have checked if Your printers Firmware can be changed to Chipless! Make the following steps.
Step 1. Download and extract the Zip archive with XP-440, XP-441 Firmware  - Download Updated - May 30, 2018 (12 MB)
Step 2. Connect the printer to PC by proper USB cable.
Step 3. Put printer in special Firmware Update Mode. (Ink cartridges and printer drivers are not required):
power OFF the printer and not more than in 1-minute press and hold such buttons:
STOP + LEFT ARROW +DOWN ARROW + POWER – wait until on printer monitor you will see WHITE text - Firmware Update Mode – then Release all buttons. If the text is in red - that is the wrong mode. Try once more time.

Step 4. Upload Firmware to printer. Run EPFWUPD.EXE file and follow all steps until Firmware will upload in printer.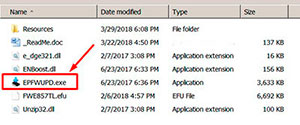 When Firmware Update is complete confirm that new Firmware Version is displayed on the LCD.
Press OK button – the printer will turn OFF.
5. Switch ON the printer. The printer will be in regular condition.
So, If Your printer CAN ACCEPT downloaded Firmware and switches OFF after pressing STOP button - that means Your printer can be updated to Chipless Firmware!
Next step:
Buy this Activation Key for XP-440 etc:
- pay by Visa or Master Card;
- pay be PayPal or other payment systems (include discounts).
Download License application and Step by Step Activation Manual - download here
Follow Activation Manual to make Your printer chipless.
Please keep in mind - Activation Key CAN NOT be returned and has an expiration date!
Buy Activation Key after You have successfully uploaded Firmware to Your printer!